Our company won the title of "Most Caring Donation Enterprise" at the first Liaoyang Charity Award
---
On December 12, 2013, Liaoyang Civil Affairs Bureau and Liaoyang Charity Federation jointly held the "Liaoyang 'Charity Month' Activity Launching Ceremony and the First 'Liaoyang Charity Award Commendation Conference'" at Liaoyang Hotel.

In order to vigorously carry forward the spirit of philanthropy, establish a model of philanthropy, further enhance the influence and appeal of public welfare undertakings, encourage all sectors of society to participate in and support philanthropy, deeply implement the spirit of the 18th National Congress of the Communist Party of China and the Third Plenary Session of the 18th Central Committee of the Communist Party of China on "supporting the development of philanthropy", and vigorously develop the city's philanthropy, with the consent of the municipal party committee and the municipal government, the Liaoyang Civil Affairs Bureau and the Liaoyang Charity Federation organized and carried out the first "Liaoyang Charity Award" selection activity.

Our company won the title of "Most Caring Donation Enterprise" at the first Liaoyang Charity Award. Over the years, Jinchang people have been practicing the spirit of contributing to society and serving society. The late Comrade Liu Zhengbin, an outstanding Communist Party member of the chairman of the group, did not forget his roots when he became rich, spared no effort to give back to the society, and once resettled thousands of laid-off workers to provide employment opportunities for thousands of people in the surrounding rural areas. Invested millions of yuan for local public welfare undertakings such as bridge repair, road repair, water and electricity, and donated tens of millions of yuan to participate in poverty alleviation and disaster relief, donate to education and other activities.

Now, in the Jinchang Group founded by Comrade Liu Zhengbin, we still follow the footsteps of the old chairman and strive to contribute to the charity cause in Liaoyang.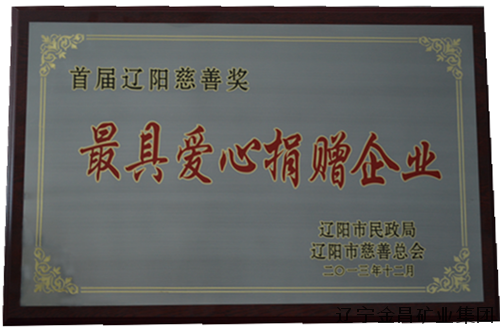 The First Liaoyang Charity Award "Most Caring Donation Enterprise"