---
On December 31, 2016, Liaoning Jinchang Group held a New Year tea party at the headquarters of the group.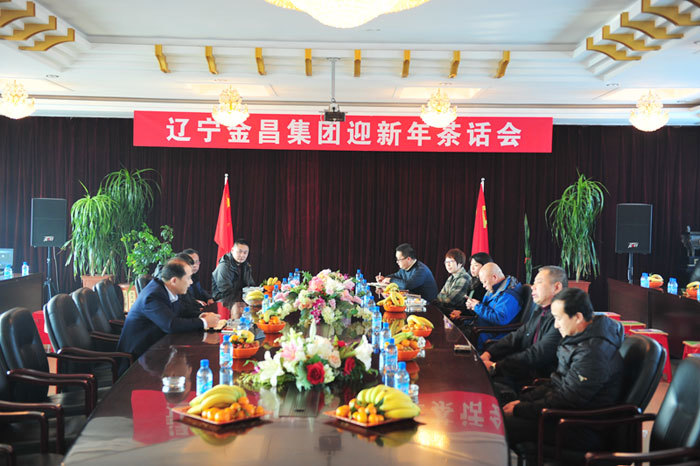 The meeting was chaired by Huang Zhonghe, Secretary of the Party Committee of the Group, and attended by Vice Presidents Li Guohong, Wang Zhihai, Li Zhongyan, Chief Engineers Bian Haitao, Cheng Xiqun, Zhang Jiaxiang and heads of various departments.
First of all, Party Secretary Huang Zhonghe delivered a speech:
On the occasion of the Spring Festival, I would like to greet the leaders at all levels, friends from all walks of life and all employees of the group who care about and support the development of Jinchang's cause!
I wish you all good health in the new year! Career progress! Happy family!
 
The Chinese New Year tea party was going on happily in a warm atmosphere...
 
I wish all employees of Jinchang Company a happy Chinese New Year and all the best, and wish Jinchang Company a better tomorrow!
                         ——Deputy General Manager Li Guohong
 
Jinchang people will always be with happiness - dedicated to 2013
                         ——Deputy General Manager Wang Zhihai
 
The sound of firecrackers removes the old years, and wishes for peace!
                         ——Chief Engineer Xu Zongshi
 
I wish all Jinchang employees and their families a happy Chinese New Year, and wish Jinchang company a more brilliant new year!
                         ——Chief Engineer Bian Haitao
 
Study diligently, work steadfastly, work together, and create a better Jinchang! I wish all Jinchang people and their families health, happiness and happiness in the Year of the Snake!
                         ——Chief Engineer Cheng Xiqun
 
In the new year, I wish all the employees of Jinchang Group all the best, good health, and rolling in financial resources! Jinchang Group is more brilliant!
                         ——Chief Engineer Zhang Jiaxiang
 
At the meeting, the heads of all departments elaborated on the departmental work plans for the new year, and the meeting ended in a cheerful atmosphere.